My verandah was laden with materials gathered from the tideline. Although used regularly in my artwork, this beach-found collection grew at a seemingly exponential rate!   Beached Verandah was devised as an innovative project that would make creative use of my beach gleanings. It drew artists together and provided them with a rare opportunity to work with one person's collection from a particular place – Discovery Bay in southwest Victoria. The project immersed artists in this coastal environment, encouraging them to share knowledge and explore unfamiliar materials and techniques. The outcome is individual and collaborative sculptures and installations about the place the materials were collected from and the environmental issues they are indicative of. It was wonderful to have the opportunity of working with these artists and sharing my beach-found collection with them.
INQB8 Gallery, Mandurah 6 May – 10 June 2012             http://www.symbiotica.uwa.edu.au/activities/exhibitions/adaptation
Opening Sunday 6 May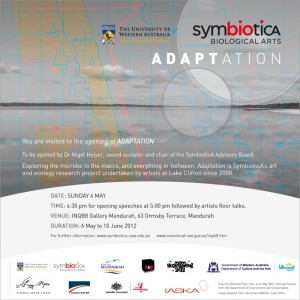 Exploring the microbe to the macro, and everything in between, Adaptation is SymbioticA's art and ecology research project.
The Adaptation exhibition features the projects undertaken by the Adaptation artists-in-residence embedded in Lake Clifton, south of Mandurah in Western Australia from 2008 to 2012.
Artists
---
ART ORIENTÉ OBJET, Plutôt que tout (More than Everything)
JUAN M. CASTRO, Heliotropika
ORON CATTS, The Autotroph
GALLIANO FARDIN, Yalgorup
CATHERINE HIGHAM, Still Life
GLORIA KEARING AND ROB EWING, The River Of Spirits
PERDITA PHILLIPS, The Sixth Shore
VYONNE WALKER, Slowest Growing Sculpture
CARMEL WALLACE, Visualizing Adaptation: Surface And Beyond
ANNAMARIA WELDON, Sharing The Edge